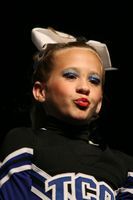 Date: 03/15/2011, 01:36:49 AM CDT

Name: Kylie and Molly (:
From: Fort Worth!
Email: Kylie and Molly (:
Comments:

Molly and I are going to tryout for the competitive teams. We're in tumbling right now, :) Josh and T are our favs. YAYYYYYYYYYYYYYY. ((:
Date: 02/14/2011, 10:27:29 PM CST

Name: Sarah Grace Siratt
From: Fort Worth
Email: Sarah Grace Siratt
Comments:

I love everyone at TCC! They are so nice to me and everyone who is there. I love being on the first level 5 there and being with Eric as a coach.
Date: 10/26/2010, 11:13:11 AM CDT

Name: Vickie Frye
From: West fort worth
Email: Vickie Frye
Comments:

My daughter is in her first year of cheer in White Settlement. She has great spirit and loves to cheer. I would like to continue this with Cheer Connection for the off season.
Date: 10/25/2010, 01:38:25 PM CDT

Name: Aly
From: Brewer High School
Email: Aly
Comments:

You guys are amazing! When I left GSX, I had my days where i couldn't do much. Now I have more confidence with myself now. Y'all treat me way better than Maverick EVER did. They paid no attention to me because i was too afraid to do a back tuck. Thank you sooooooooooooooo much!
Date: 05/03/2010, 08:01:49 PM CDT

Name: Michele Derryberry
From: Fort Worth
Email: Michele Derryberry
Comments:

We LOVE Eric and are considering coming to TCC to tumble in the very near future. Would like to see what TCC has to offer and keep up with the current events.
Date: 03/30/2009, 06:57:43 PM CDT

Name: Jillian
From: TCC!!!! Fury
Email: N/A
Comments: I am so excited!!! I love TCC and I am really excited about the new season!! I think the new team names are cool too!!! :)
Date: 03/07/2009, 11:46:04 PM CST

Name: Kenzi
From: FW
Email: N/A
Comments: Great job today!!! Yall are such a great team!!! I am looking forward to seeing yall in the future!!! (at future comps.!!) A big hand to ALL of yalls coaches!! AMAZING GIRLS!!!
Date: 03/04/2009, 11:25:27 AM CST

Name: Adara
From: texas
Email: Adara
Comments: neeci and wendi i love your stunts and one day i want to be apart of tcc!!!
Date: 11/30/2008, 09:38:02 PM CST

Name: Marsha Gollet
From: Hurst
Email: N/A
Comments: Saw yall at Gaylord last year, you all are GREAT!!!!

Good Luck this year to all your teams!!

-MG
Date: 11/21/2008, 07:06:05 PM CST

Name: Sarah Stuart
From: Atlanta texas
Email: Sarah Stuart
Comments: i want to be a cheerleader!!!!!!!!!!!
Guestbook - 1 to 10 of 32 Next »